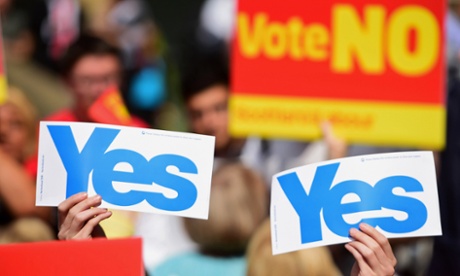 Yes supporters disrupt a no campaign event. Eighty-seven percent of respondents describe themselves as 'absolutely certain to vote'. Photograph: Jeff J Mitchell/Getty Images
The union between Scotland and England hangs by a political thread as a fresh Guardian/ICM poll published on Friday puts the yes vote just two percentage points behind those supporting no.
Despite a week of intense political campaigning by pro-union politicians and repeated warnings from business about the dangers of independence, the poll finds support for no on 51% and yes on 49% once don't knows were excluded.